The Wave Case
$140.00
Regular price
Unit price

/

per
Quantity selected exceeds current stock
Description
The Wave Case oyster variety pack has everything you need to make waves; whether you'd like to host your own backyard shucking party, or simply indulge your inner oyster connoisseur, this is the variety pack for you!
This oyster variety pack will give you a taste of each of our different New Jersey oyster growing regions, and is sure to satisfy your craving. The 100-count option offers 25 oysters from each of our 4 growing regions, and the 200-count offers 50 oysters from each region.
It's kind of like a White Castle Crave Case - without the sliders, of course, just pure bivalve bliss!
Remember, if stored properly in your refrigerator, freshly harvested oysters can last for up to a week! No need to eat them all in one sitting. Eat some raw, grilled, poached, baked, broiled... you name it, there's a recipe for everyone.
What's included:
Variety of 100 or 200 oysters
1 fresh lemon
Shipped in a cooler box with ice packs
a 'Time-Temperature' device that ensures safe and cold transit
*Additional items such as shucking knives and condiments can be added to your cart
The specific type of oysters included in the sampler package from each region are based on availability and harvest conditions for our farmers. Here is a highlight of flavor profiles from each of our regions:
Northern Barnegat Bay - Mantoloking Region (Sloop Point & Dune Fox Oysters)
Tasting profile: Sweet with mild salinity, due to upper bay and further ocean proximity
Southern Barnegat Bay - Barnegat Light Region (Sugar Shack & Laughing Gull)
Tasting profile: Very briny due to close proximity to the ocean, crisp, mild sweetness 
Little Egg Harbor - Rose Cove Region (Tuckers Island, Beach Blossom, Violet Sky Oysters)
Tasting profile: Balanced brine and sweetness
Great Bay Region - (Jersey Devil & Love Oysters)
Tasting profile: Medium Salinity with subtle vegetal notes 
Oysters in the package will be color coded by zip tie and marked accordingly in the brochure.
Shipping for Oysters & Seafood: Our perishable shipping days are Monday, Tuesday, and Wednesday. Please select the date in the cart page you would like your items to be shipped. Estimated 1 day delivery from selected shipping date. We suggest choosing a shipping day 2 days or more prior if a specific delivery date is needed, to account for any shipping errors (oysters can be kept refrigerated for a week prior to consumption). We offer free 1-day UPS Ground Shipping to zip codes within Ground our zone (Tri-State Area), and $35 flat rate shipping to all other locations in the US. For bulk orders: $40 shipping fee added for every 50lbs.
You may use the shipping estimator below to see your rates for this product.
Pickup for Oysters & Seafood: Available Monday-Friday after 12 noon. Orders will be placed under the PICK-UP sign outside at our headquarters (address shown at checkout). All pickup orders receive a $10 gift card via email!
Shipping for Apparel/Accessories:
Shipping rates are dependent on customer location and will be added at checkout. Orders containing oysters and apparel/accessories may be shipped separately and may arrive separately.
Adding product to your cart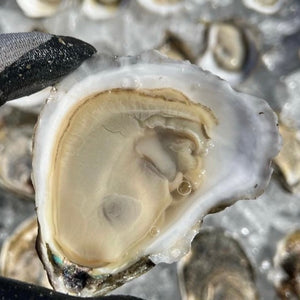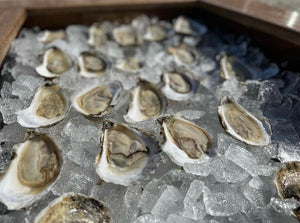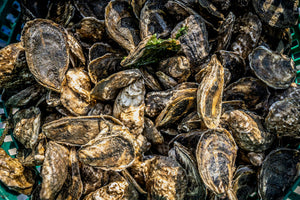 Recommended
Some other things we think you might like