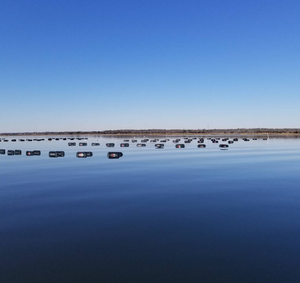 The Collective
The Barnegat Oyster Collective is a farm-to-table shellfish aquaculture organization dedicated to connecting oyster lovers to the diverse products of New Jersey's pristine Barnegat Bay. The Collective is comprised of the independent oyster farms listed below.
Blood Point Oyster Company
Jersey Devil Oysters
Grown by Adam Sprague
Forty North Oyster Farms
Sugar Shack Oysters
Grown by Matt Gregg, Erik Gross, Dylan Parks, Kayla Racanelli, Liam Andersen, & Kelly Giannetto

Laughing Gull Oyster Farm
Laughing Gull Oysters
Grown by Chris & Lauren Carroll
Love Oysters
Love Oysters
Grown by Matt Matusky
Schramm's Shellfish
Violet Sky Oysters
Grown by Ryan & Julia Schramm
Sea Meadow Oysters
Beach Blossom Oysters
Grown by Kevin Cummings
Skiddy Oyster Farm
Dune Fox Oysters
Grown by Mike Alexander
Sloop Point Oyster Farms
Sloop Point Oysters
Grown by Tommy Burke
Tuckers Island Shellfish Company
Tuckers Island Oysters
Grown by Jordan Lopinto & Katie Gross
Oystering was once a vibrant way of life for the bay community, until it collapsed in the 1950s. Our independent farming members represent the future of the sustainable working waterfront of New Jersey and the fastest growing agricultural industry in the Garden State.

As a collective, we thank you for your support!